Aviation Club ascends into aeronautics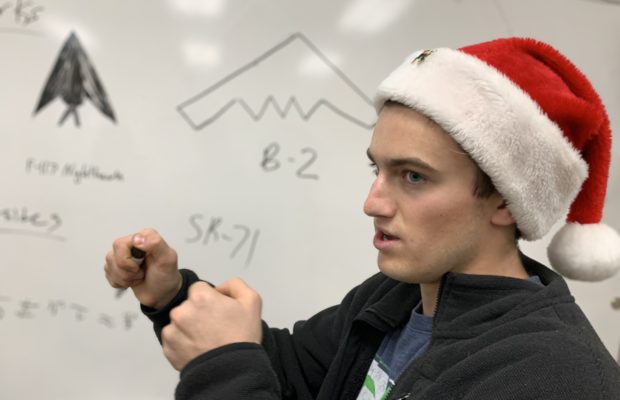 The excited chatter of students is audible as paper airplanes of various shapes and sizes woosh through the air of room D-2 at lunch. 
Ryan Younes, senior, is the president of the Aviation club on campus. He joined the club during his freshman year, stemming from his interest in aerospace which began at a much younger age. "It began when I was a young, young boy," Younes said. "I would be watching the documentaries that had all the stuff about space and planes and all that. It was really cool to me and I liked it a lot, and it kinda carried over until now."
Evan Metcalf, senior, is the vice president of the club and found his interest in aeronautics through the club last year. "Well, the club existed last year when I was a junior, and my friend wanted me to join it. The fascination really came around when I went to (Jet Propulsion Laboratories) with everyone else in the aviation club last year," Metcalf said.
As technology advances, Younes believes that an interest in aerospace will prove to be beneficial in the near future. "We are in a second space age, and it's becoming a huge thing for companies to be sending up spacecraft and going to beat each other to places such as Mars and the moon," Younes said.
While the club has always had a focus on aerospace, an additional focus for the club this year has been how to get people more involved in aviation. "We talk about aeronautics, meteorology, rocketry and basically everything that has to do with being in the air, but we also talk about how to get your pilot's license and the steps needed to reach that goal," Metcalf said.
Matthew Shen, senior, was attracted to the club because of the science associated with flight. "The whole deal with aviation, in my mind, is how physics and science can combine with technology to do something as crazy as sending a giant metal bird through the sky at 500 miles per hour," Shen said. "I just think it's neat to look at the more intricate details of how that works and also learning more and discovering new things about aviation.
Younes encourages others to see for themselves what the club is all about. "We meet in D-2 every Thursday at lunch," Younes said. "Last meeting we had a paper airplane competition and free pizza, so definitely check it out if you are interested in planes or space of any kind."