Celebrate Thanksgiving safely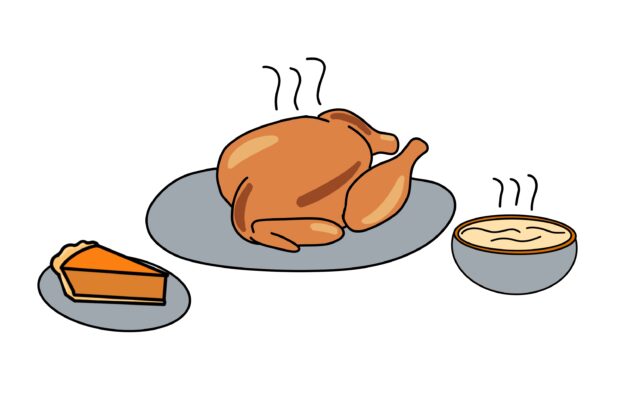 Thanksgiving is a day meant to be spent together sharing food with loved ones. However, with social distancing orders in place, family gatherings seem almost impossible at the moment. Luckily, modern technology has made gathering a whole lot easier. 
Outdoor dinner: CDC regulations suggest avoiding indoor gatherings as much as possible, but a solution to that could be enjoying Thanksgiving dinner in an outdoor setting. A key to this is finding an open area that makes it easy to adhere to the six feet social distancing orders. Limiting the amount of extended family is also very important to preventing the spread of COVID-19. Spaced out tables and chairs would make socializing with loved ones easy while keeping everyone safe.
Limiting amount of attendees:  The more people attending an event, the higher the risk is of contracting COVID-19. Limiting the number of guests to just close family could cut the risk, but it is never truly gone when in person gatherings occur. If your family chooses to spend this holiday in person, consider quarantining for 10 to 14 days before the gathering in order to ensure  the safety of everyone, especially if you have elderly and immunocompromised family members.
Online: While a virtual Thanksgiving dinner takes away some of the social aspect of family gatherings, they still allow loved ones to laugh together and make memories. The app Houseparty could be a good option if your family chooses to celebrate Thanksgiving virtually. It allows up to eight different devices to join one meeting and provides several games to play, such as Heads Up and Trivia. However, if you are looking to hold a virtual gathering on a larger scale, Zoom may be the right choice for your family. One attendee would create a meeting and provide the other members a link or code to join the meeting. Zoom does not have a limit to the amount of attendees.
Pre-prepared meals: Having your meals already planned and cooked can prevent close contact between extended family members. If every household attending the celebration brings their own food, social distancing orders will be easier to follow. 
However you and your family decide to celebrate this year, be sure to stay safe and have fun. Happy Thanksgiving!