Drama performs Mystery Dinner Theater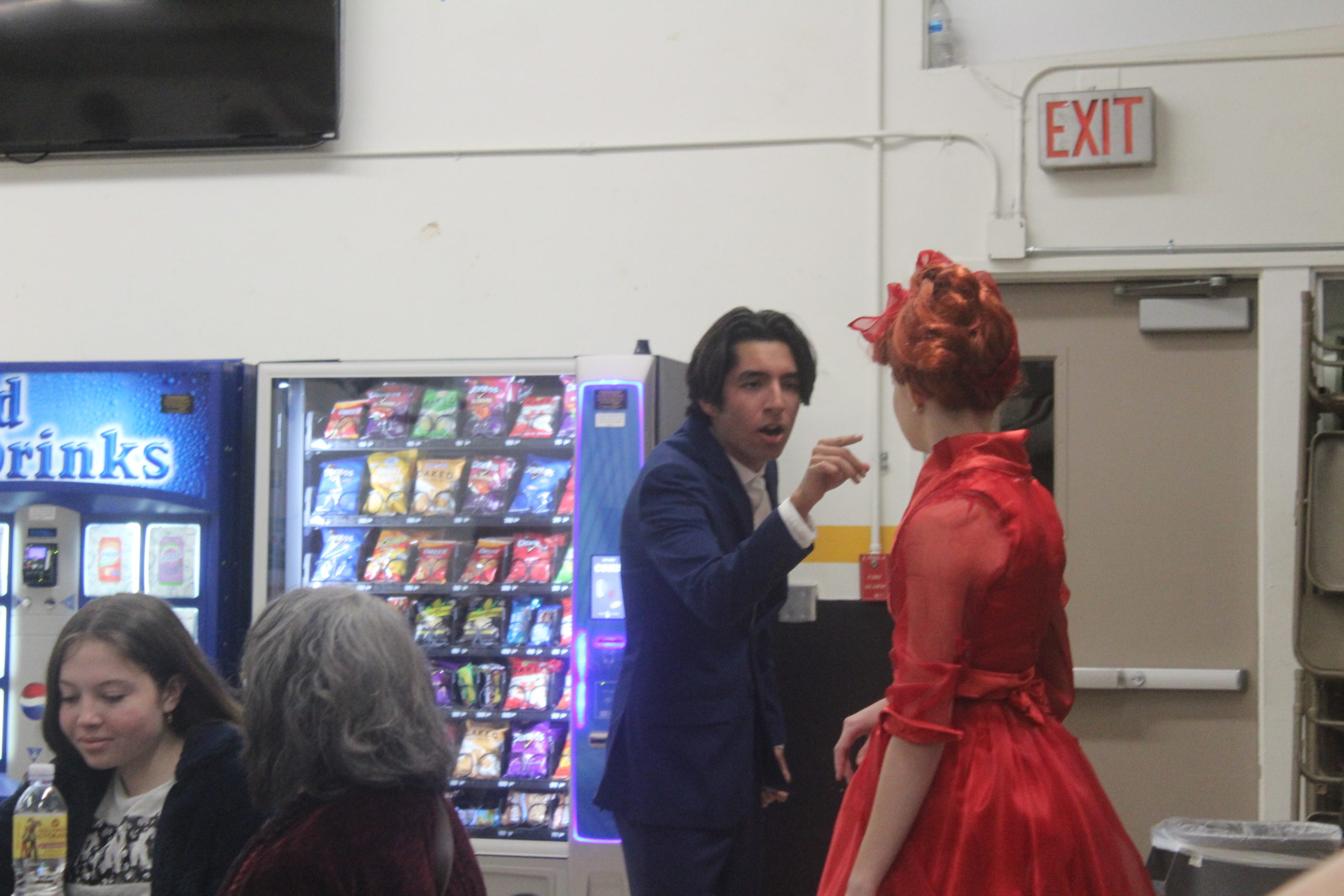 The drama department recently put on one of their most beloved performances, Mystery Dinner Theater, in the cafeteria. An audience-interactive murder mystery performance, it is put on while guests are served dinner. Variety acts are performed in between scenes and during meals, and the night is topped off with waiters serving the audience throughout the night. 
This year, the show was directed by Gus Gress, junior, and theater department thespian. "It's really fun because we have our cast of six people that perform the show, but then we also have lots of other students volunteering," Gress said.
The play had a theme of I Love Lucy, and encompassed the murder of Mr. Mooney, played by Justin McAlister, senior. "It was cool and it wasn't too difficult," McAlister said. "A lot of people would imagine it to be really hard to stay in character, but once you master the mindset of your character, then it's real easy."
Alongside McAlister, the nights contained many talented actors including Charlotte Weymer as Lucy, Sam Cervantes as Carolyn, Emilio Carreon as Ricky Ricardo, Grace Rebbe as Ethel, and Jack Eaton as Fred. All connected to Mr. Mooney in some way, each of the characters underwent an interrogation after his death. They were questioned by one other and the audience later got to accuse a character of the crime. Those who guessed correctly were rewarded with a prize. 
Each table had their own discussions. "There was a very heated debate at my table about who the murderer was, and I personally did not guess correctly but a couple of my friends got it right on," said Tiana Hoang, sophomore, who attended the show's premiere.
At the beginning of the show, the actors began to dance as if they were in a Cuban club, and pulled viewers out of the audience to form a conga line. "It was just really fun to have the audience get out of their chairs and kind of like, breaking the fourth wall," Tiana Hoang said. "Just actually feeling like you were in a cuban club. It was really fun."
Before the nights of the performance, actors attended rehearsals and servers went through a brief training. "We would meet about once a week and there was one week leading up to the show where we met a few times, and we only have one day of tech rehearsal and then we have our two performances" Gress said. 
In addition to a great show, variety acts including singing, dancing, and playing instruments were performed in between scenes and during the dinner. Casey O'Brien, sophomore, a waitress, also played part of Seitz Concerto No. 5, a violin piece, as a variety act.
"There's this certain headspace that you get in," O'Brien said. "You just kind of feel free and like you're able to express things through the music that you can't express with words," O'Brien said after her first performing night. 
O'Brien was but one of many variety act performers. "They were all very talented and there was a lot of singing and it was just something nice to listen to," Hoang said. 
Unlike actors and servers rehearsal, variety act preparation depended on the performance. "For my own piece, I had been working on that for a little bit, just over a month with a private teacher." O'Brien said. 
Mystery dinner is a fun way to spend your night, and support the theatre department at the same time. "It's really nice for our department to know that we're supported by our schools community as a whole and not just our own theater community," Gress said.