Jenna Naumann strives for service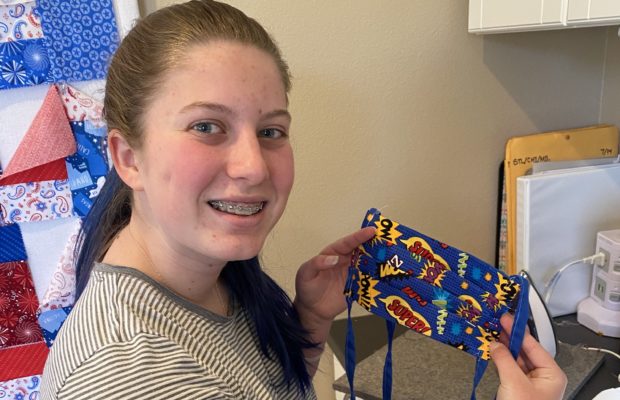 It's easy to lose motivation while being locked up in our homes, but Jenna Naumann, sophomore, is determined to stay active and help out those in need. "I am going to make the most of my time at home by continuing to serve our community by making masks and by trying to learn new skills to entertain myself," Naumann said.
Concerned about the well being of others, Naumann aids the production of safety essentials. "I printed up a pattern, threaded my sewing machine and got to work making masks that I gave to my grandparents and donated to a few nurses at CHLA to help keep them safe during the shortage of PPE [protective personal equipment]," Naumann said.
Online school, however, remains a somewhat challenging aspect of Naumann's life, especially due to the school work piling up. "I went from stressing about too much work in school to stressing about being sure I am understanding things in my classes and trying to stay on top of all of them by checking a multitude of platforms for work."
On top of keeping up with school and sewing, Naumann is running for ASG parliamentarian. "I decided to run because ASG means so much to me and I have absolutely loved student government for the numerous years I have done it," Naumann said. "I wanted to help make student government mean something to other kids."
Running for any political position is challenging, even in high school. Life in quarantine adds complications and setbacks to the process. "From poster hanging to talking to people directly about my campaign, a huge part of campaigning is done in person on campus." Naumann said.
Despite her hard work on spreading the information, Naumann is worried about the influence of social distancing on her campaign. "I have tried to make the best of it by texting all of my friends to post about me running on their social media," Naumann said. "But there will inevitably be people who didn't know that it was campaign week and who won't see my campaign."
Naumann continues to remain positive, however, keeping a good spirit in these rough times. "I miss hanging out with my friends and going to school every day, but I'm trying to make the best of it."