Speech and Debate succeeds at state qualifiers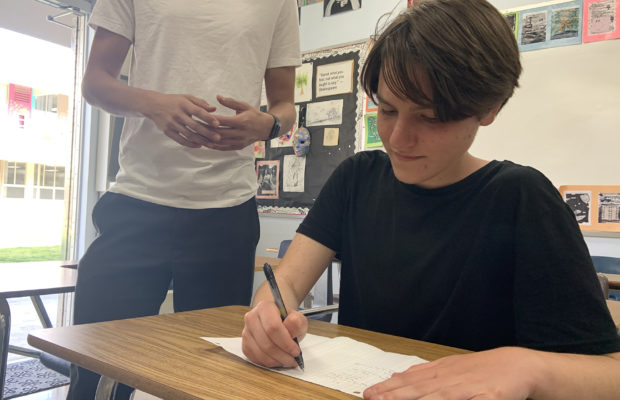 Students from the Speech and Debate club participated in the Tri-County Forensic League state qualifiers on Feb. 29. The event was held at Taft High School in Woodland Hills, where students competed in various categories of speech and debate in hopes of qualifying for the state tournament. 
Four NPHS students competed in the parliamentary debate category, in which teams of two students are given a topic at the tournament and must prepare an argument in 20 minutes. After five rounds of competition, Carter Castillo and Adalia Luo, sophomores, made it to the state competition.
David Sullivan, sophomore, competed at the state qualifiers as well. Sullivan was attracted to the parliamentary debate format due to the fact that students do not have to prepare a speech beforehand. "I enjoyed doing [debate] in middle school but was so busy," Sullivan said. "When I heard about this format… I just got excited to join." 
Phillip Feinbloom, sophomore, was Sullivan's partner for the tournament. He decided to join Speech and Debate because he is involved in other activities that involve public speaking. "I do Mock Trial as well and I think they're kind of related. But speech and debate is a good tool for speaking in public," Feinbloom said. 
He was excited to get experience competing against other talented students at the competition. "Because I'm a first year person in debate, it's always nice to go up against better people than me and learn and practice," Feinbloom said.
Benito Canepa, sophomore, did not compete but helped his teammates prepare for the tournament. "We're just focusing on how well [they] can talk and how well we can debate in general," Canepa said.
As an active member of the club, Canepa is excited to have two people from NPHS compete at the state contest. "Most of the debaters that do make it are normally from private schools who have gigantic clubs, and it's really nice to have a smaller group making it," Canepa said.
The club hopes to increase its membership and send more students to the state tournament in future years. "It helps you practice speaking skills, it helps you come up with arguments… and it's a lot of fun," Feinbloom said.