Community comes together on second anniversary to remember Borderline 12
Nov. 7 marked two years since the shooting at Borderline Bar and Grill in Thousand Oaks. The tight-knit community came together as Thousand Oaks mourned and supported the loved ones of the Borderline 12.
Social distancing guidelines meant this year's remembrance had to take a somewhat different form than before. However, it did not stop community members from coming together to remember the 12 lives lost, both virtually and through modified in-person events. 
On the anniversary itself, families and community members alike were encouraged to visit the Healing Garden at Conejo Creek North, which was unveiled at last year's remembrance ceremony. 
Anthony Angelini made his visit to the Healing Garden that afternoon in remembrance of his friend Justin Meek. "I feel like everyone in Ventura County either knew someone who died, knew somebody who was there, or knew somebody who was affected by it," Angelini said. "I want to make this my yearly thing, because I don't think it's worth forgetting."
That day, visitors were given the chance to paint rocks with uplifting messages, with some choosing to place them around the park or give to others. "Family members and community members were able to come together providing messages of hope and inspiration through art, and do what they wanted to do with those items," Kelly Mukleciz, a supervising victim's advocate for the Ventura County district attorney's office, said. "We kind of just wanted to give people an opportunity to share those messages in any way they felt most comfortable."
The Borderline Remembrance Drive occurred simultaneously, a different way to honor the lives lost while staying safe with COVID-19 regulations. Led by the loved ones and survivors of the shooting, the 28-mile route brought out hundreds across Thousand Oaks to view the passing cars through the early afternoon.
In conjunction with the events that occurred that day, the City of Thousand Oaks created the 12 Acts of Kindness campaign, which encourages the community to take the time to perform good deeds for each other throughout the month of November.
"We wanted to kind of give everybody the opportunity to take a moment and reflect on everything that happened, and how they were affected," Alexandra South, associate analyst for the City of Thousand Oaks, said. "A lot of people were really impacted by simple acts of kindness, whether it was something related to Borderline, or something related to the fires. Maybe their family was evacuating and someone gave them a place to stay, things like that."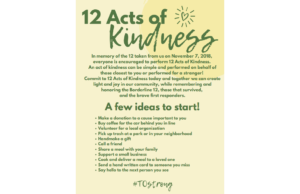 The project is very open-ended with the intention of being accessible to anyone who would like to participate. "It's something that doesn't have to cost anything, anybody can do it. I think it makes everybody feel really connected again," South said. Some ideas of where to start are provided on the posters found on their website, such as the one to the left, and can be shared across social media.
More materials and information regarding the 12 Acts of Kindness campaign can be found at https://www.toaks.org/departments/city-manager-s-office/trending-topics/12-acts.