Free Britney Spears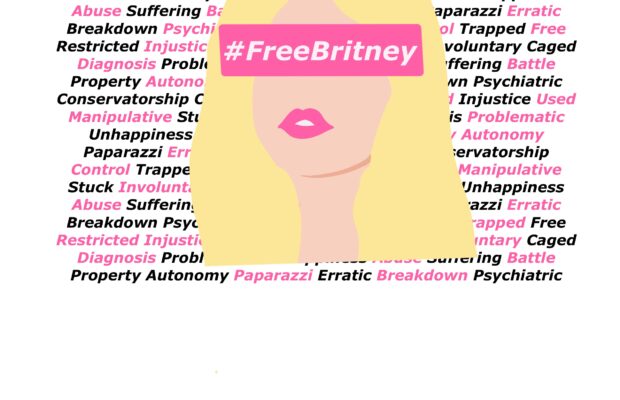 It would be hard to forget singer Britney Spears' 2007 public breakdown. Following her divorce from Kevin Federline, she made headlines for frequent erratic behavior, including shaving her head, attacking the paparazzi and locking her and her children in their home, ultimately leading to Britney's first involuntary psychiatric hold. 
Britney was soon placed under a temporary conservatorship, intended to stay in place until she was deemed "mentally stable." However, due to her alleged early-onset dementia diagnosis at only 26, her father Jaime Spears and attorney Andrew Wallet, named as "conservators," were granted permanent control over her assets and estate by year's end, giving them the ability to conduct business on her behalf, sell her property, and control visitors to her property. 
Conservatorships are often created for the benefit of the elderly, infirm or disabled in managing their finances, but because the system has little legal monitoring, conservator abuse and manipulation are unfortunately not abnormal. The agreement made in court over Britney is a blatant abuse of authority, taking control of aspects of life not typically involved in conservatorship.
At the age of 38, Britney remains unable to any of the following without her father's permission: leave her house, vote, drive a car, get married, have children, view her bank statements, and, perhaps most disturbing, speak about the conservatorship publicly. Jaime can legally put his daughter into a mental facility for speaking out against him.
The validity of the conservatorship is also worth questioning, leading to one overarching inquiry: If Britney is so incapable of taking care of herself, why is she still working? Since being placed under conservatorship, she has released 4 albums, held 3 worldwide tours, made countless appearances on TV shows, and held a four-year-long Las Vegas performance residency. Surely her competencies would be significantly affected 12 years into suffering from early-onset dementia? 
We may not know the ins and outs of her situation, but it does not take insider information to see that this conservatorship was not created or being executed with Britney's best interests in mind. Throughout the course of her legal battle, many allegations of financial manipulation at the hands of her conservators have been made, although been consistently denied by her father's legal team. While this is problematic, it should not be our focus. The driving force of the #FreeBritney movement should be her unhappiness in the conservatorship and interest in obtaining her autonomy. 
While it is true that she has struggled with mental illness, Britney is a woman living a heavily restricted life and wishes to escape. Regardless of your personal views of her career or past decisions, this should be enough of a reason to fight for her. 
Britney's situation is a microcosm of the rights we deny to those with mental illness. If this abuse can legally happen to someone with the platform and audience of Spears, consider those suffering behind closed doors. We must continue to speak up for the injustices that occur within our legal system every day, especially for those who cannot stand up for themselves. #FreeBritney.