Medical forces battle COVID-19 with the community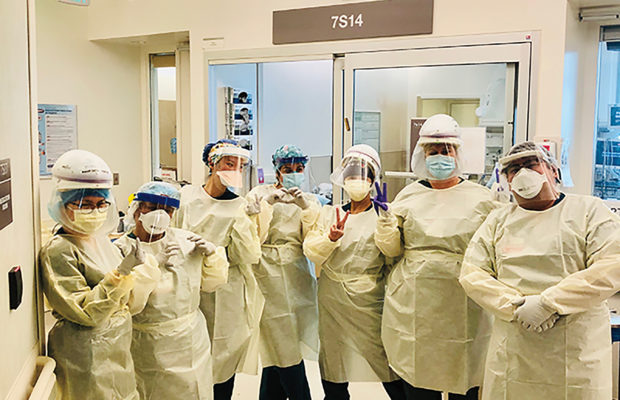 While the common American citizen does their part by staying home, countless medical staff fight on the front lines to take down COVID-19. In hospitals across the state, medical workers are working relentlessly to prevent the spread of the disease. People all over the community have shown great appreciation for these hard-workers through donations and support, keeping our frontline workers strong.
Medical Workers
At the forefront of the battle against COVID-19 are the nurses and doctors working in hospitals like Los Robles Hospital in Thousand Oaks and Cedars-Sinai Medical Center in Los Angeles.
These workers, like many of us, did not expect the coronavirus to turn into such a major ordeal. "Honestly, I thought the media was blowing it out of proportion. I knew of two confirmed cases at the hospital. Then, I was off for two days and one of our ICUs [Intensive Care Unit] was filled with COVID patients. It became very real, very quickly," Lia Padilla, nurse at Cedars-Sinai Hospital, said. 
Immediately after the pandemic erupted, hospitals had to act quickly to help patients. "The nurses took on extra duties of other departments to limit the number of potential exposures of our staff.," Tom Vasko, Los Robles nurse and NPHS alumni, said. 
Everyday nurses like Vasko must take intense precautions when preparing to work with COVID-19 patients. The procedure begins with getting their temperatures checked at the door. Then, medical professionals must put on a series of protective gears to ensure their safety. The usual scrubs and gloves are worn, but some doctors wear 2-3 layers of gloves for safety. 
All nurses are required to wear N-95 masks, but due to a surge in sales during the pandemic, hospitals have limited access to these masks. RJ Cajigal, critical care float nurse at Cedars-Sinai, said that workers now have to practice improper protection routines. "If you go by old school books, you're not supposed to use the same masks between patients normally, but because of the circumstances that we're so short on protective gear we have to use one for 12 hours… unless the mask itself gets soiled," Cajigal said. "This can be tiring over a 12 hour shift on your respiratory system and face/skin," Vasko said, because the masks require a tight fit to be effective.
Verbal communication has also become a problem while wearing masks and other protection. "We had to adjust to communication by writing backwards with a dry erase marker on the sliding glass doors," Vasko said. In addition, tasks like changing an IV which usually takes seconds can now take over 5 minutes. "This may not seem like a lot, but this can be an extremely frequent occurrence and eats away at our time and limited isolation equipment supplies," Vasko said.
Distancing Struggles
Not only has the pandemic been difficult for the nurses, but patients are also facing a whole new world of struggle. Patients can have very little, if any visitors and are required to wear masks outside of their rooms and have their temperature checked. Further, many are afraid to go to hospitals and medical offices.
"We had to adjust to communication by writing backwards with a dry erase marker on the sliding glass doors."

-Tom Vasko, nurse
"The hospital is usually a bustling center, now it's a ghost town," Padilla said. "The hospital is seeing less patients come in because they are scared of contracting the coronavirus. This has led to some patients ignoring major symptoms of heart attack or stroke resulting in poorer prognosis or death," Padilla said. 
With all of these extensive measures , stress follows  patients and medical workers home at the end of the day. Charlie O'Connell, paramedic for Los Robles, has had to change his entire routine to adapt to the pandemic. "I do my own little mini decontamination where I clean my boots before I come inside the house. I take all my clothes, I put them directly into my laundry hamper. I jump in the shower. And then we can't really go anywhere to visit people that we normally would have," O'Connell said. 
These cautions also put stress on their families. "Every night I get home from work is difficult for me and my son, he doesn't see me for the entire day and when I get home he gets very excited. He is too young to understand the dangers, it breaks my heart but I have to deny him any contact until I can at least shower. Even after I thoroughly wash, I'm scared to hug or kiss my own son," Vasko said. 
Hospitals have provided hotels for those who are working and seek isolation, but many hospital workers find it hard to keep distance from those they love for such a long time. "I think the biggest lesson that we can all learn is that the general public really won't understand what healthcare goes through until you're actually there," Cajigal said. "If anything and everything, just wash your hands and you should be at less risk passing the virus to anybody that you know." 
Community Efforts
During the past few months, many have felt the empathy of  the community as people have united to help medical workers on the front lines of the pandemic.. 
After Governor Gavin Newsom declared the statewide shutdown of California in mid-March, the volunteer department at Los Robles Hospital closed indefinitely to satisfy social distancing guidelines. However, this did not halt the volunteers' desires to keep helping. Irene Brennick, Los Robles volunteer coordinator, began organizing volunteers from Los Robles and the community to donate home-made masks and scrub caps to the hospital. 
Immediately after sending an email to volunteers, her request was met with great enthusiasm.. When asked how many masks and caps have been made, Brennick responded with five words: "hundreds and hundreds and hundreds." She says, however, that "sometimes, within ten minutes [of delivering them] they're gone," and that these efforts are still needed.
The volunteer department has also been putting in a lot of effort to provide the medical staff with food. "So lots of groups are fundraising and putting big orders into local restaurants to also help them and then provide food," Brennick said. 
Standing on the other side of the story, many medical staff have seen and felt the support given by the community. "I am so proud and thankful of my community and I will continue to be there for them in this pandemic and for whatever may come in the future," Vasko said.