Robotics club gears up for competition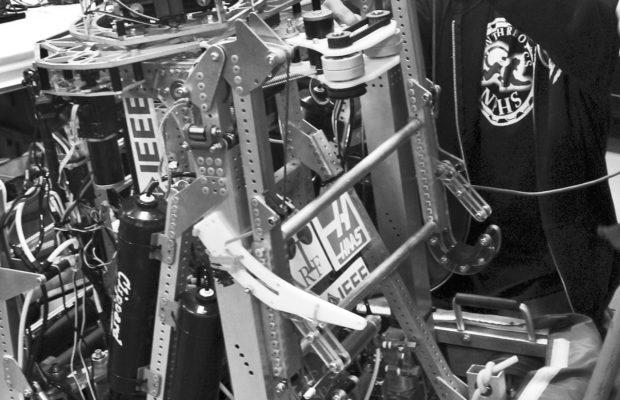 Machinery, physics, coding, and a team here at NPHS all work together to create high functioning robots.
Robotics club meets every day after school and some Saturdays, preparing and building an advanced robot for their big competition every year.
The team receives a challenge each January at the end of winter break from the global organization: For Inspiration and Recognition of Science and Technology (FIRST). "It sends out a challenge nationwide, globally, and our job is to build a robot that will accomplish that challenge and hopefully win" Tally Heys, a sophomore and machinist on the robotics team, said.
This year, the challenge is to build an infinitely recharging robot that performs various tasks including shooting balls into a goal, rotating a wheel, and also being able to function completely on its own for a set amount of time. "Fifteen seconds of time is autonomous," Heys said. "It's basically hands off. The code does it by itself, the robot runs itself. It's really scary." 
Last Friday through Sunday Feb. 28-30, the global robotics competition was held at Mamba Sports Academy, where 44 robotics teams from around the world competed. Each team gets assigned a number based on when they joined the competition. The NPHS robotics club has been involved since 2011, and their team has the number 3863. Based on their robot's performance in the past competition, the club has currently made it to the quarter finals. Their next regional competition will be held March 12, 13, and 14 in San Diego. 
Heys dove into Robotics in middle school and joined the club her freshman year after attending a summer camp hosted by the school. Along with hard work, the club is rewarding. "Just using the computer and just watching it go and do this job was just like, wow this is so cool" Heyes said. 
Matthew Shen, senior, joined Robotics his freshman year and is now club president. While it was not something he was engaged in immediately at the start, Shen developed a passion for it after he experienced the satisfaction from creating an operating robot from scratch. 
"You go through a lot of pain and suffering because nothing works ever. But when it actually does, it's some of the best feelings in the world because you look at what you have done and you see I somehow went from a pile of metal to this thing" Shen said.
In order to build an operating robot, a range of skills from programming to engineering are required. All of the members are taught from the basics at the start of the year in preparation for competitions.
"Robotics gets a reputation for being really hard, but it's all just a collection of simple stuff," Shen said. "Programming is complicated but you just need to practice a bit and it'll eventually come to you."
Not only do the team members get to learn about the basics of robotics, but also how to take those skills and apply them to everyday life. "The biggest thing I learned was how to think and visualize solutions to problems, either if that's how to fix something in limited time with limited resources, or larger scale things like envisioning the strengths and weaknesses of different mechanisms," Max Soury, junior and vice president of robotics, said. 
The robotics club is a great way to learn how to work with machinery and coding, and acquire problem solving skills. "Hopefully to get our robot running and to go to competition ready and confident that we can do our best," Heys said.
"It's definitely challenging. The organization that holds these competitions has called it 'the most difficult fun you'll ever had' and I agree," Soury said.