PTV keeps rolling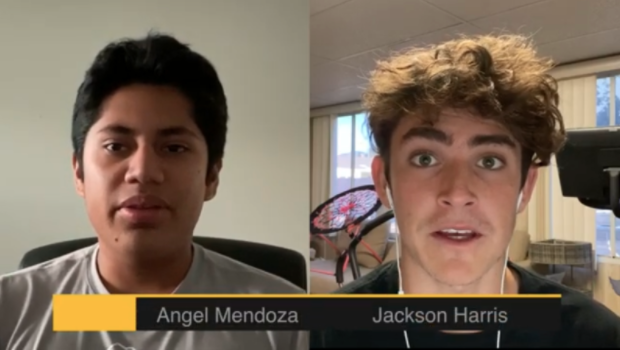 Everyone's favorite news channel is still up and running. Although coronavirus keeps students at home, Panther Television (PTV) continues to release new episodes multiple times a week.
"The decision was almost instant. Once we found out we were going to be home for a while, we all still wanted to continue making PTV episodes," Jackson Harris, junior, said. Harris has been an anchor for PTV since the beginning of junior year.
 Although not the easiest transition, the members of the PTV team  "use every resource we can, such as other family members to help us, finding stock footage to use online, and using video call platforms like Zoom and Skype to conduct our interviews and anchor for our episodes," Harris said. Unlike anything PTV has experienced, the anchors now have to film from home. 
"It's a lot different than in a studio, it's weird as we don't have the script right on the camera like we used to, so there's a lot more memorization and it's a little more difficult to communicate with everyone else involved," Harris said. 
The PTV staff has also been pushing to make their weekly episodes easy to access during the virtual learning period."We all get to do our thing at our own pace. Of course we still have due dates but we all get into our own groove when we're at home," Harris said. The internet has granted PTV the use of multiple platforms for airing their episodes.
"We're posting all the episodes on YouTube and sending emails to the students with a link of the newest episode when it is uploaded," Harris said.  Teachers, administrators, and even Mr. Lepire have been sending out weekly episodes of PTV with their newsletters to let students take a break from virtual learning.
Despite the business of quarantine life, Harris said, "We definitely don't plan on stopping."